Sustainability at Wiper and True
Working to become the most sustainable brewery possible
At Wiper and True, we are constantly working to become the most sustainable brewery we possibly can.
It's no secret that brewing uses a lot of energy and creates a significant amount of by-products. At Wiper and True, we want our overall impact on the planet to be a positive one, so in the day-to-day running of our business, we're always focused on tackling the biggest environmental impacts that our brewery is making, whether that be our energy demand, efficiency savings, waste products or ingredient sourcing.
We hope that in talking transparently about what we're up to and where we are succeeding, and failing, in our sustainability goals, we will encourage other businesses to think about their impact on the planet, and what we can all do to lessen that impact.
Read on to find out more about our work to become the most sustainable brewery we can be.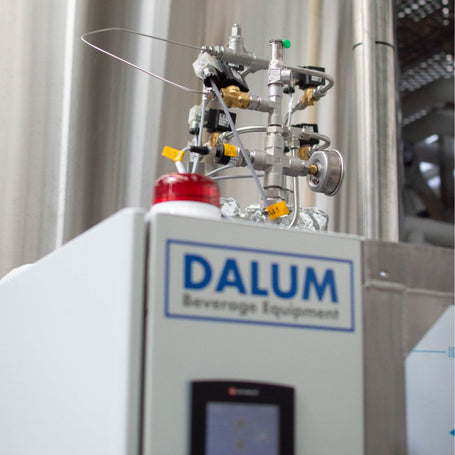 Carbon Capture
One of the by-products of fermentation is carbon dioxide. We used to release that CO2 into the atmosphere like the majority of other micro-breweries around the world. We have now installed new carbon capture technology that allows us to harvest and use a lot of the CO2 that we generate in the fermentation process. It will then be reused throughout the brewing and packaging process.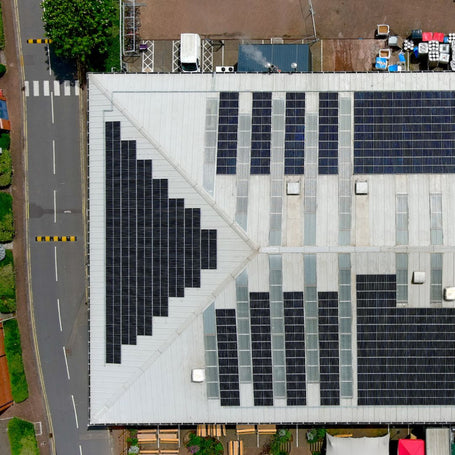 Solar Panels & Green Energy Tariffs
Since the beginning of Wiper and True, we have been powered by 100% renewable energy tariffs. For the last two years, our tariff has also included carbon offset natural gas. Our new building in Old Market has a lot of roof space, which we have filled with solar panels, via a 159kW array. This is currently generating a large proportion of our electricity demand, with the excess being fed back into the grid.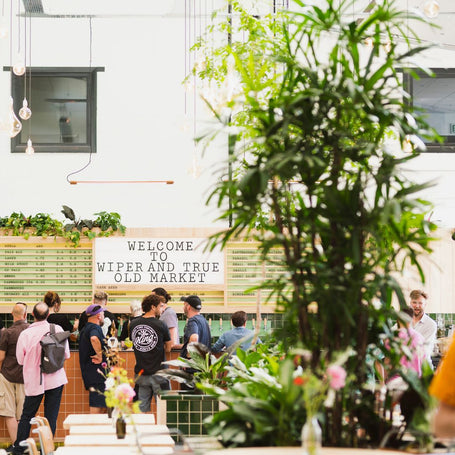 Carbon Neutral by 2030
One of our biggest sustainability goals at Wiper and True is to reach carbon neutrality by 2030, if not sooner. We are in the process of writing our roadmap to carbon neutrality.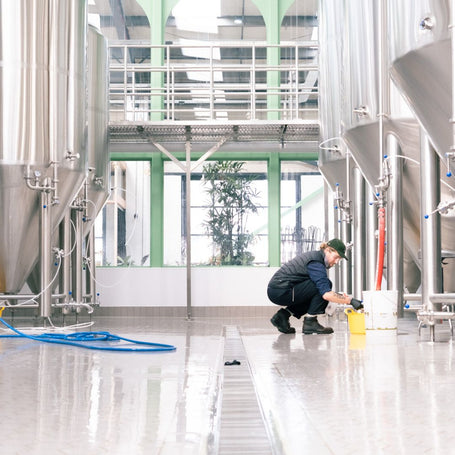 Carbon Footprint Analysis
We are currently working with Zevero to conduct a full carbon footprint analysis of our entire operation. We will publish this on our website by the end of the year. We are fascinated to understand our impact and how we can work towards minimising them.
Sustainably Sourced Cardboard
It isn't glamorous, but cardboard boxes are a massive part of the brewing game. At Wiper and True we use Forest Stewardship Council (FSC Mix) certified cardboard boxes, with recyclable paper tape in place of plastic to seal these boxes. That means if you don't want to reuse the box your beer comes in, you can put it straight into the recycling bin, tape and all. On our side, we pay for a recycling company to come and take our all our brewery and warehouse recycling away each week. At our Old Market Taproom, we are looking into technologies that will reduce cardboard usage by half.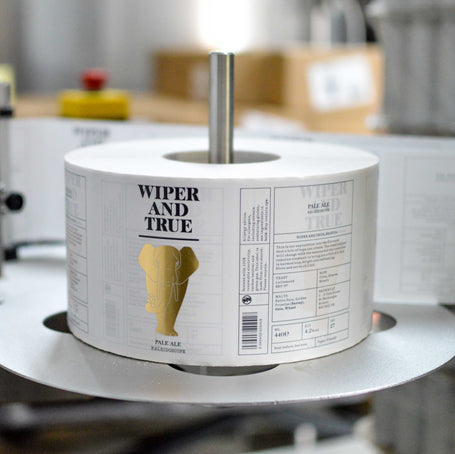 CORNSTARCH LABELS
Our labels are printed on cornstarch, not plastic. This makes them much more expensive for us to buy, but we think it's worth it, to reduce our reliance on oil-based hydrocarbons. To recycle, leave the label on the can and stick it out in your recycling bins as normal. During industrial recycling, the label acts as a fuel in the aluminum smelting process, serving a second function beyond its original use. One day, we'd love to work with printed cans, thus reducing the need for any label at all.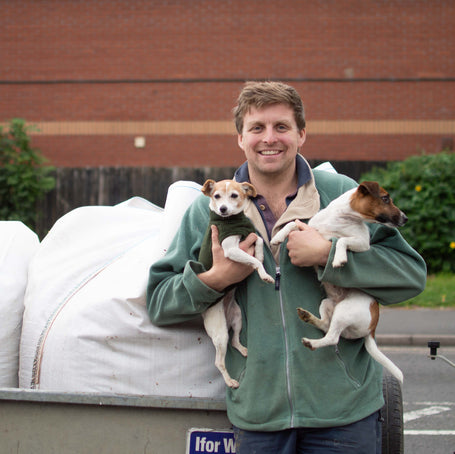 Spent Grain Feeds Cows
We're delighted to have found an additional use for our biggest brewing byproduct in the form of local farmer Will Weaver, and his cows. This beef is then sold back into Bristol's cafes and restaurants. Every Friday Will and his dogs drive over to our brewery to transport a week's worth of spent grain (the term for used malt which we've extracted sugars from) to his farm, where it feeds his herd of cows. At our Old Market brewery, we use an efficient brewkit, which reduces the amount of malt required by 10%.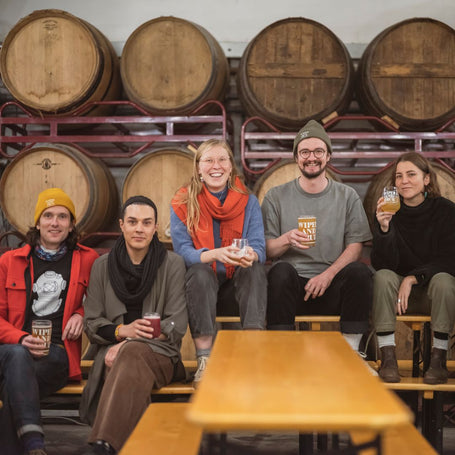 B-Corp Application
We are very excited to announce that we have just begun the process of applying for B-Corp status at Wiper and True. This strengthens our own commitment to carefully consider the impact of every decision we make as a business, by making it a legal requirement to think about our team members, our customers, our suppliers, our community and our planet at every turn. For us this is a really important step as we firmly believe that running a sustainable business doesn't just mean considering our impact on the environment. We hope to get B-corp status in 2024.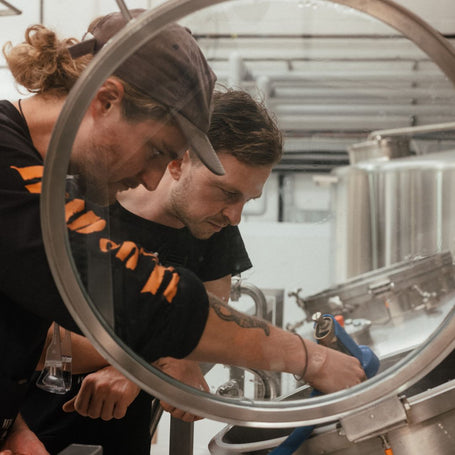 Brewers' Climate Forum
As a business we feel that to generate positive change for the climate in our industry, we need to have conversations with other breweries. With that in mind, Wiper and True have instigated the Brewer Climate Forum. Key to this forum is also sharing our successes and failures, as we firmly feel that sharing this knowledge will help us all deliver meaningful results.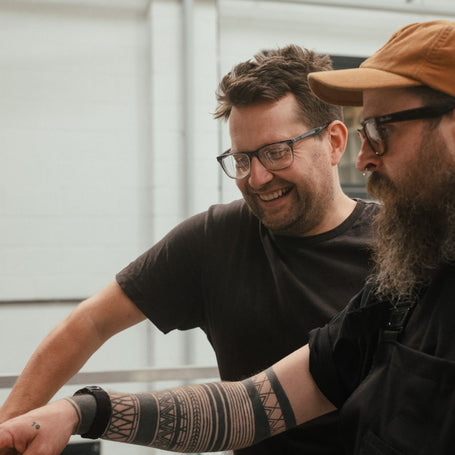 Internal Sustainability Manager
At Wiper and True we have built a role specifically accountable for sustainability into our business. Joe became our Sustainability Manager in 2019, and has been building exciting & necessary sustainability measures into our business ever since. Our investment into sustainability will only continue to grow along with our business. We have loads of ideas for equipment, process and culture that we can't wait to share with you.
Choosing a selection results in a full page refresh.
Press the space key then arrow keys to make a selection.